As we step into the enchanting world of weddings in 2023, we're greeted with a fresh wave of creativity and innovation. This year promises to be a memorable one for couples who are tying the knot, with a delightful array of wedding trends that will make their special day truly unforgettable. Whether you're planning your own wedding or simply love keeping up with the latest in wedding styles, here are the top 10 must-have wedding trends for 2023.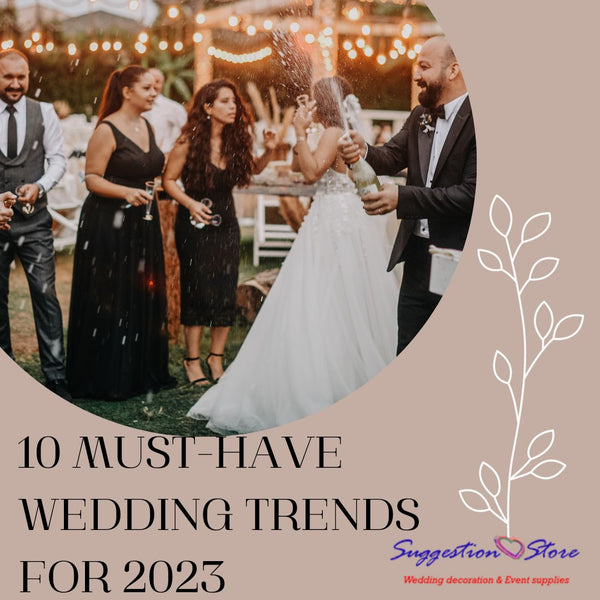 1. Sustainable Celebrations: Eco-conscious weddings are in the spotlight. Couples are opting for sustainable choices, from invitations made of recycled paper to locally sourced, organic catering. Green weddings are not only environmentally friendly but also socially responsible.
2. Micro Weddings: Intimate gatherings are gaining popularity. Couples are choosing to celebrate their love with a select group of close family and friends, allowing for more personal connections and unforgettable moments.
3. Luxe Lounge Areas: Wedding decor is taking a comfortable turn with the introduction of plush lounge areas. Think cozy seating, vintage rugs, and stylish throw pillows where guests can relax and mingle.
4. Bohemian Vibes: Boho-chic weddings are making a comeback. From flower crowns to dreamcatchers, couples are embracing the free-spirited, natural aesthetics of Bohemian style.
5. Bold and Bright Colors: 2023 is the year of vibrant color palettes. Couples are opting for bold and unexpected color choices, creating a visually stunning contrast to classic wedding whites.
6. Interactive Food and Drink Stations: Guests are in for a treat with interactive food and drink stations. Think build-your-own taco bars, signature cocktail mixology, and dessert stations where guests can customize their sweets.
7. Statement Wedding Dresses: Brides are making a statement with their wedding gowns. From dramatic sleeves to unique fabrics and unconventional silhouettes, bridal fashion is all about self-expression.
8. Technology-Enhanced Weddings: Virtual elements are here to stay. Couples are incorporating live streaming, interactive guest books, and digital RSVPs for a seamless and inclusive celebration.
9. Floral Installations: Floral decor is taking center stage with grand, Instagram-worthy floral installations. Archways, hanging floral chandeliers, and flower walls are adding a touch of magic to wedding venues.
10. Non-Traditional Venues: Couples are opting for non-traditional wedding venues such as art galleries, botanical gardens, and even family estates. These unique settings add character and charm to the celebration.
Conclusion: As we embark on a new year of love and commitment, these wedding trends for 2023 offer couples an array of exciting options to personalize their special day. Whether you're drawn to sustainable choices, intimate gatherings, or vibrant color palettes, there's a trend to suit every couple's unique style. So, embrace these trends, but don't forget that the most important element of any wedding is the love and connection you share with your partner. Cheers to a year filled with beautiful and unforgettable weddings!